Meet our Principal Practitioner



Nirelle Bennett is a Certified Hypnotherapist, and a Gippsland local.
With 25 years in corporate leadership & mentorship, managing teams, coaching, project management and sales mentorship, Nirelle has previously supported women entrepreneurs as a Business Coach, helping them to beat imposter syndrome, and build sustainable & successful businesses.
Now a Transformational Coach, Nirelle is passionate about helping people improve their lives by breaking free from what is holding them back. She does this by customising personalised sessions to each client's individual needs using a range of modalities including:
Hypnotherapy & E-Hypnotherapy
Transformational & Life Coaching
Neuro-Linguistic Programming (NLP)
Timeline Therapy™
Impostor Syndrome Mentor
Meditation Facilitator
Nirelle and the team at Gippsland Hypnotherapy are excited to share the magic of Hypnotherapy with the people of Gippsland.
If you've never tried hypnotherapy before, you may be picturing a group of people on a stage being 'hypnotised' by a magician. This isn't what we do.
Hypnosis is a deeply relaxing and naturally-occurring state of the human mind.
During hypnosis, your conscious mind, the part that manages all your thoughts, tasks, and runs your day-to-day, takes a back seat.
With your conscious mind resting, a hypnotherapist is able to communicate directly with your subconscious mind, helping you to reprogram any negative thoughts, beliefs or behaviour patterns, and support it to rebuild in new, healthy ways.
Curious about the transformative effects of hypnotherapy but haven't experienced it yet? We've got you covered!
Unlock the power of hypnotherapy with our free resources.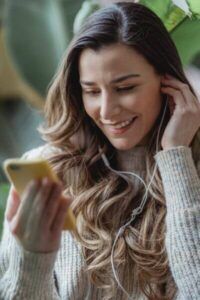 Your subconscious mind holds your belief systems and all the 'programming' that makes you do things the way you do.
Hypnotherapy can help you tap into and change any subconscious programming that you don't want impacting your life anymore, but that you might be struggling to change on your own.
Successfully using hypnotherapy to support our clients in
Which hypnotherapy service is right for you?

Ready to break free from the barriers holding you back and experience a life filled with confidence, happiness, and fulfilment?
At Gippsland Hypnotherapy, we specialise in empowering individuals like you to achieve profound transformation and realise their true potential.
We believe that everyone deserves the opportunity to reach their full potential. That's why we offer a range of flexible hypnotherapy services designed to fit every schedule and budget.
Transformative HypnoTrack
Frequently Asked Questions
Kind words from past clients
Nirelle is absolutely amazing, she helped me kick my 17 year smoking habit/addiction in our first session, over a zoom meeting may I add. 19 months later and still haven't looked back. I can't thank or recommend Nirelle enough for her help. Thank you so much.
"I have had the privilege of working with Nirelle in undergoing hypnotherapy sessions to support my lifestyle change. Nirelle worked with me to identify my desired outcomes, barriers and opportunities. Through my sessions we discovered other barriers, re-adjusted language and away we went. Result being personal growth, more knowledge about self and useful daily tools I can silently use to focus and succeed. Thank you Nirelle"
Nirelle is a kind, generous, and patient person who is very easy to work with. I felt comfortable to open up and be vulnerable to share my experiences with her to allow some very raw healing work to unfold. Since working with her my confidence and self belief have grown, I understand myself better and have been achieving dreams I never thought possible.
Just letting you know I had an MRI today. I didn't get stressed about it and stayed calm for 45 minutes while I was in the donut. Thanks for your help.
Hi Nirelle. Just thought I'd touch base with you. I stopped smoking 2 weeks before my surgery (3.5 weeks ago) and am still not smoking. Thanks for your help.
Thank you 😊 I'm finally doing the things I've always dreamt 👍